Montefalco Sagrantino Secco
D.O.C.G. Full-bodied and smelling
"Montefalco" Sagrantino Secco. Thanks to the geological characteristics of our vineyards, their south exposure, the height and the windy climate they benefit, Sagrantino grapes are rich in sugar, tannin and polyphenols. Thus the wine they produce is intensely ruby with a lingering smell of prune, vanilla and spices. Smooth, for a precise choice, in spite of more than 14 % alcoholic content, it can be appreciated even after 10 years, always at 18°-20° Temp. It matches very well with first tasty dishes, truffle, roasted lamb and game.
READ THE BACK LABEL
"High stone" was called the hill on which I grow
by the Saracen soldjers of the Emperor Frederic II nd.
I've been there since that time, living back to men who take care of me
the SACRED WINE of the feasts.
Enjoy my… "nocturnal" red, the intense smelling I'll give off little by little.
Taste slowly. I'll suggest warm and strength…
like a Beethoven symphony.
I love to mach rich foods and being on elegant tables for special happenings.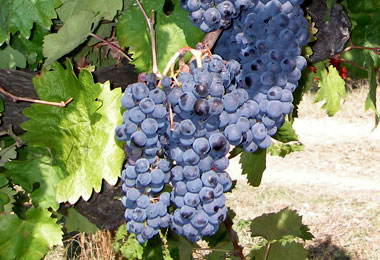 REQUEST PRODUCT INFORMATION