Montefalco Sagrantino Passito
D.O.C.G Precious, since is red.
Real jewel of Italian Oenology, in BOTTI's farm it has been produced since the XIXth century. Garnet red with orange nuances, Sagrantino PASSITO is rich in sugar, because of the long natural withering: it almost drops as a liqueur. Extraordinary smelling: blackberries, cloves, cinnamon, flavour and pleasanlty persist, in taste too. 18° temperature, at least, is recommended. It's ideal for conversation or "meditation", perfect by itself at the end of the meal, agreeable with middle seasoned cheese and cheese cakes.
READ THE BACK LABEL
THE TIME is my essential being:
CENTURIES when I stayed in silent cloisters and over altars;
UNKNOWN that in which man learnt how to obtain the nectar from my grapes;
QUIET the winter dark cold days when I dry on old mats;
HAPPY I whish You, the one in which You'll taste me, by Yourself or together with lovely people.
Give Yourself the pleasure of TIME… to "waste" with me, thinking,
listening…..to the words or to the music You love, enjoying my bouquet
and the "SWEET TIME" I can give You.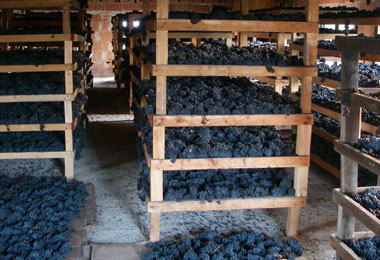 REQUEST PRODUCT INFORMATION